KEVIN!!!
I have probably seen thousands and thousands of cocks by now.  Over half of my callers want to send me pictures of their penises.  (I don't even ask… but my email box gets filled!)  And now that I've been watching you guys on cam the last few years… I get to see even MORE cock! 
I really am pretty shocked by some of the smaller *ahem* cocks I have seen, but this one takes the cake!  When I told him his was the tiniest PIN DICK I had ever seen, and that I wanted to post it on my blog, he was EXCITED!!! 
So now…
I give to you…
(Drumroll)…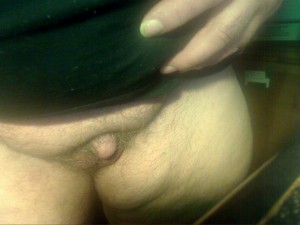 It STILL cracks me up every time I look at it!  It makes me think of a little doorbell–just reach over and "DING-DONG!"  (Oh… did I mention Kevin likes to wear PANTIES sometimes??  I guess his poor teeny-peeny would get lost in a pair of boxers!)
Kevin knows his dicklet is tiny.  I've known him a couple of years now and he's CONSTANTLY trying any kind of pill or cream on the market to make it bigger.  He's now currently trying X-Lotion.  It says on the website "Simply apply X-Lotion daily and watch your penis grow.  It's fantastic!"  He's already gone through 3 of the 6 bottles he purchases just last month!  He promised me I could put an AFTER pic of him when he's done.
Oh… and feel free to COMMENT on Kevin's pic.  He truly wants to hear what anyone has to say about it! 

  Have fun!